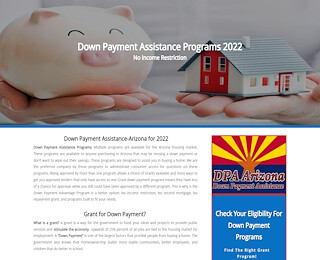 Every citizen of the United States should have the opportunity to own their own home. The problem is that many people can't afford to tuck away thousands of dollars for a down payment, which usually consists of twenty percent of the value of the home. People that don't own their homes, usually have to make their rent payments, along with utility payments, not to mention buying food, gas, insurance, etc.  For many good people, saving for a down payment on a home is not even feasible, let alone doable. Many folks have no idea that they can easily qualify for assistance for a first time home owner down payment in Phoenix AZ. Our financial experts at Geneva Financial, LLC. can show you how to make your dreams a reality. Check out our Home Ownership Program in phoenix az
The financial professionals at Geneva Financial, LLC. can assist you in obtaining a first time home buyer down payment in Phoenix AZ, and throughout the entire state. Because we work for you, we can discover many different assistance programs which you may qualify for. There is never any type of risk to you, because our services come at no cost to you. You don't even need to have perfect credit to get your loan or grant, and even a credit score that is less than perfect will still be able to apply for, and most likely qualify for many of these programs. It's a well kept secret that most first time buyers will find a place where they can attain these benefits.
The U.S. Department of Veterans Affairs (VA) helps active duty military members, veterans and surviving spouses buy homes. The VA guarantees part of the loan, making it easy for lenders to provide several unique features. VA loans come with  incredibly competitive interest rates and require no down payment. You are not forced to spend on private mortgage insurance,PMI, and also there is no minimum credit score required for eligibility. In case it gets hard to make the payments on the mortgage, the VA is able to negotiate with the lender on your behalf.
The Good Neighbor Next Door program, sponsored by HUD, provides housing aid for law enforcement officers, fire fighters, emergency medical technicians and pre kindergarten through 12th grade teachers. Through this particular program, you are able to receive a price reduction of up to fifty percent on a home's listed price in regions known as "revitalization areas." Using our program's resources, we are able to search for properties available in the state of Arizona. You must commit to living in the home for a minimum of thirty six months. There area also other programs that are currently available for first time home buyers.
If you would like some additional information regarding our first time home owner down payment in Phoenix AZ, Geneva Financing, LLC. would like to invite you to visit our website. At downpaymentassistance-arizona.com, you can leave your contact information, along with any questions you may have, directly our home page, for a quick and friendly response. Please check out our Home Ownership Programs in phoenix AZ
Home Ownership Program Phoenix Az
Down Payment Assistance Phoenix Arizona
480-292-8288
1018 E Guadalupe Rd, Tempe, AZ 85283
View Larger Map